The 2022 Oundle Festival of Music & Drama will continue its proud heritage of offering competitive performance opportunities to all, with this year being our 103rd Festival.
The Festival is open to all amateurs and welcomes performers of all ages in music, speech and drama. Performers are invited to compete in a variety of classes, all described in the Syllabus below. 
Hard copies are available at Oundle Bookshop or can be requested using the contact form.
As you will see, there is a great variety of classes to compete in. Once you have decided which classes you'd like to enter, you may register, enter and pay the entry fee online. Online entry opens December 1st.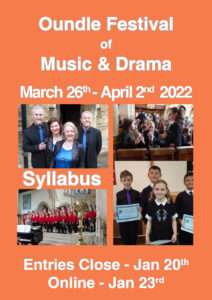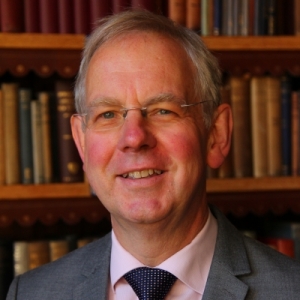 Timothy Barratt
Adjudicator: Music
Principal Instrument: Piano
Music classes: Chamber music, Piano, Strings, Vocal, Woodwind
Qualifications: ARAM,GRSM,LRAM,ARCM,LMusTCL
Timothy studied on a scholarship at the Royal Academy of Music and in Paris with Vlado Perlemuter. As well as performing as solo pianist, accompanist and chamber music player he has considerable experience of teaching at all levels.
He was a lecturer and vocal coach at the RAM and TCL for many years and is now Head of Keyboard at Dulwich College and a teacher at the Junior Academy.
He adjudicates for The British and International Federation of Festivals, directs workshops for teachers in the UK and abroad and is an ABRSM examiner, trainer, moderator and presenter, and a mentor for the Certificate of Teaching.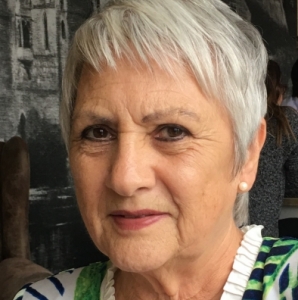 Gabrielle Burgin Lister
Principal Instrument: Voice
Music classes offered: Choral, Musical theatre, Vocal
Qualifications: GRSM,ARMCM,PGCA
Gabrielle brings a wealth of experience to her work as an adjudicator and wholeheartedly supports the principles of BIFF in its purpose of educating, encouraging, and enthusing people of all ages, abilities, and standards. She has a long Association with BIFF, having been a member for over 30 years. She has served as a deputy on the Adjudicators' Council and was proud to take a major role in the 75th Anniversary celebrations at Warwick University. She is delighted to have been asked recently to assist with the new adjudicators programme.
Gabrielle studied at the Royal Manchester College of Music (now RNCM) with Ena Mitchell, winning the Jeanne Bretey Scholarship for Singing, and then privately in London with John Carol Case and Erich Vietheer. She worked in full time education at all levels as Director of Music before taking up a freelance career as soprano soloist, visiting vocal specialist in various educational establishments, and as an adjudicator. Festival work takes her all over the UK, to the Irish Republic, and overseas where she is a regular visitor to the Hong Kong Schools Music Association Festival.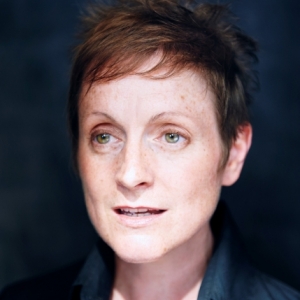 Marcia Carr
Adjudicator: Speech and Drama
Music classes: One Act Plays, Original comp in verse and prose, Master Classes etc, Musical Theatre
Qualifications: MPhil(Lon),BA(Hons),ALAM,LLCM,ALCM,FRSA
Marcia trained at Royal Holloway University of London where she returned to start her PhD. She trained in speech, dance and drama, and currently facilitates workshops and directs shows for universities, drama schools and theatre departments internationally. She is a qualified Feldenkrais Practitioner, a fellow of the Royal Society of Arts and a Fellow of the Higher Education Academy.
She has toured internationally, winning Best Performer, Manchester Evening News and Buxton Festival and a Time Out Critics Choice.
Marcia is Co-Artistic Director of Impetuous Kinship and Co-Director of the Creative Blast Company, delivering educational packages, training young people, developing choirs, Community Companies and producing shows touring nationally and internationally in both theatrical and non-theatrical environments.
She's an Associate Artist with the National Youth Theatre of Great Britain, directing shows, developing workshops, on audition panels and leading training, an Adjudicator for The British and International Federation of Festivals and Deputy Chief Examiner for the London Academy of Music and Dramatic Art.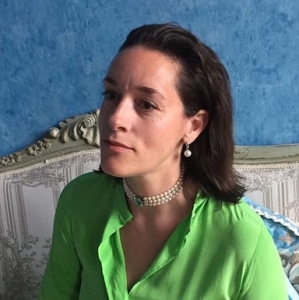 Nadia Hinson
Adjudicator: Music
Principal Instrument: Violin / Piano
Music classes: Chamber music, Piano, Strings, Vocal, Woodwind
Qualifications: GRSM(Hons),LRAM,LTCL
Nadia graduated from the Royal Academy of Music, having studied violin with Manoug Parikian and piano with Jean Harvey.  Nadia was the featured soloist playing the Lark Ascending and Bach Double Violin Concerto for the Benslow Trust at St. James' Piccadilly having been awarded an instrument to continue her studies.
She began her career as a freelance violinist. As an accompanist to singers and instrumentalists, she met her musician husband Nigel and together they founded the Veloce Ensemble (string quartet and clarinet quintet) touring throughout Britain performing specially commissioned works for that genre. Appearances at festivals and stately homes inspired a regular concert series at Belvoir Castle and Holmepierrepont Hall.
Nadia is also currently the owner and director of the Hinson School of Music in Nottingham, and is an International examiner for the ABRSM, an adjudicator for The British and International Federation of Festivals, and a member of the Royal Society of Musicians. She has recently been appointed a senior consultant for the LEAD Academy trust, involved in developing music departments in schools in Nottinghamshire, and leading workshops to encourage and involve as many youngsters as possible in experiencing music and the arts in large scale productions and showcase concerts.
Nadia has also recently been appointed to the ABRSM jazz examining panel.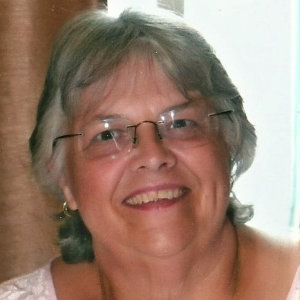 Elizabeth Emberson
Adjudicator: Music
Principal Instrument: Voice
Music classes: Barbershop, Choral, Musical theatre, Vocal
Qualifications: AGSM,CT,ABRSM
Soprano soloist, choral conductor and voice teacher, Elizabeth began singing lessons with Betty Middleton when she was eleven years old, and quickly established herself on the Festivals circuit in the North of England, winning many prizes in the process. At eighteen she went to the Guildhall School of Music, where she studied with Joyce Newton and Anna Berenska, spending a year on the Opera Course there.
Whilst at the Guildhall she won the English Song Prize, was a semi- finalist in the Susan Longfield Award and gained several scholarships for further study.
On leaving the Guildhall, she studied with Erich Vertheer and John Kitchener. Using her maiden name (Watson), Elizabeth's singing career took her all over England, France and Eire, before she decided to concentrate on her teaching career.
She now teaches at a highly respected girls' school in Oxford.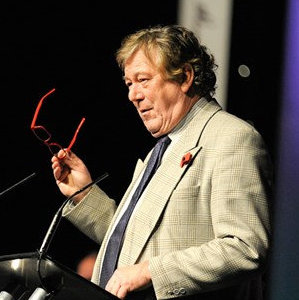 Paul Davies
Adjudicator: Music
Principal Instrument: Voice
Music classes: Barbershop, Youth Choirs
Paul Davies founded Cambridge Chord Company, which under his direction, won the Pavarotti Choir of the World at the Llangollen International Eisteddfod as well as six British and two European championships!
Paul qualified as a judge with the British Association of Barbershop Singers over 30 years ago and was recently awarded a place in the society's Hall of Fame and is currently involved in the Arts Council Making Music programme as a choral coach.
He has been principal coach to at least 12 gold medallist quartets as well as working as a choral educator with many larger groups. He is regularly invited to adjudicate at choral festivals in the UK, Europe and the USA.