The Oundle Young Singer of the Year competition was introduced in 2011 to complement the Young Musician of the Year competition and to encourage young singers. The Shirley Malster Award is a personal gift from Shirley Burchell (nee Malster).
Shirley first attended Oundle Festival as a member of her school choir, probably in 1949. In 1957 she entered her first vocal solo class.
Since 1976 she has been involved with helping to run this Festival, eventually becoming its Secretary and principal organiser. After the Centenary celebrations in 2009 Shirley retired from this demanding role, but continues to help and advise.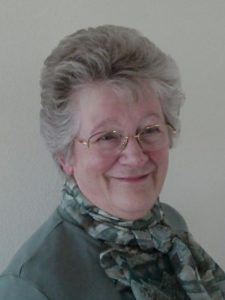 Shirley Malster Award ~ £50
The Shirley Malster Award will be presented to the winner of Class V31, Young Singer 14 to 18 years, provided they have achieved a mark of at least 87. The winner will be invited to perform at the Festival Concert.
YOUNG SINGER CLASS RULES
Competitors should perform 2 contrasting songs,
chosen from any two of the following groups:
A: Any song by Frederick Delius or Michael Head
B: British Folk Song, accompanied or unaccompanied
C: Solo song from Musical Theatre before 1970
~ includes Gilbert & Sullivan or Operetta
D: Own Choice of a song or aria
~ excluding above categories or those covered by classes V27-V29
Competitors should not present songs chosen in previous years for this class.
The award may not be won more than twice.